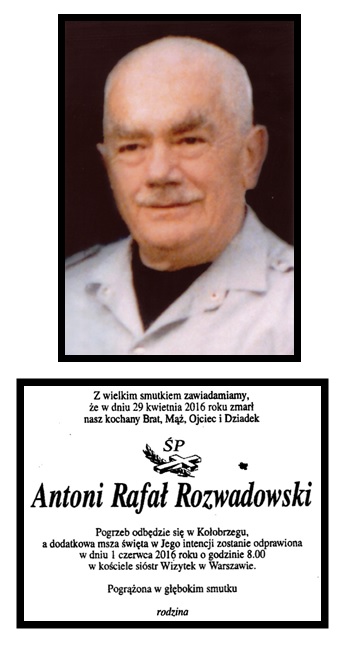 ANTONI RAFAŁ ROZWADOWSKI left us for good on 29 April 2016. The son of Bartłomiej and Anna, née Jurystowska, he was born in Nowostawy on 1.06.1934 where he lived with his family until Autumn 1939. During the war (after his father's arrest by the NKVD in November 1939) Rafał, his mother and siblings wandered from place to place, staying with relations in Lwów, Brzuchowice near Lwów, Tarnopol and Kraków. From 1945 he lived in Gliwice with his mother and sister Jadwiga where between 1948 and 1953 he finished primary, grammar and then technical school.  From 1954 to 1958 he completed his studies at the Warsaw School of Planning and Statistics. He then worked for the mechanical works, ZAMECH in Elbląg. In 1960 he moved to Szczecin where he worked as a supervisor for various enterprises until retiring in 1997.
Between 1947 and 1949 he was an active member of the Polish Scouting and Guiding Association and later of the Polish Youth Association. From 1953 to 1989 he was a member of the Polish United Workers' Party and, unfortunately – being a very good and respected person – he was also naive – so in his youth he succumbed to communist propaganda believing fully in its slogans (until 1989!). It is important to emphasise that in comparison with many other Poles (including family members!) despite being a member of the party he never benefitted from any advantages. Between 1983 and 1998 he was active in the All Poland Trade Union movement and between 1994 and 1998 he was a member of the OPZZ Trade Union Council. In 1989 he was awarded the Gold Cross of Merit for his entire professional and social work.
In 1964 Rafał married Lidia Foldt. They divorced in 1972. In 1975 he married Anna Sitarz. Their son Bartłomiej was born in 1997. Rafał's only comfort while struggling with illness were his 1 ½ -year-old grandson and 2-month-old granddaughter.
The memory of late Antoni Rafał Rozwadowski